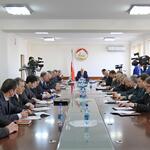 South Ossetian President Leonid Tibilov thanked the members of the Political Council for unanimity and responsible approach in drafting the Treaty of Alliance and integration between South Ossetia and Russia.
"It was a serious and hard work. Thank you for a responsible approach and unanimity. Both the political council and the working group were actively working on the proposals received from the public, political parties, individual citizens", - said the president today at a meeting of the political council.
According to the president, this work resulted in the South Ossetian draft Treaty which was then sent for approval to Moscow.