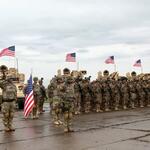 Equipping the Georgian army with new samples of military equipment by the US is another indicator of strengthening of Tbilisi's military cooperation with NATO member states.
This was stated by the Ministry of Defense of the RSO, commenting on the delivery of the first shipment of American portable anti-tank missile systems Javelin (FGM-148 Javelin) to Georgia.
Another example of strengthening Tbilisi's military cooperation with the North Atlantic Alliance, the South Ossetian Defense Ministry called regular joint exercises of the Georgian army with units of NATO countries.