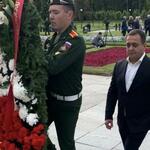 Ambassador of the Republic of South Ossetia to the Russian Federation Znaur Gassiev took part in the events dedicated to the beginning of the blockade of Leningrad.
September 8, 1941 the city was subjected to the first massive bombing, on the same day it was taken into the ring.
According to the Embassy press service, on behalf of the people of South Ossetia, as part of the mourning ceremony, Znaur Gassiev laid a wreath at the Piskaryovski Memorial Cemetery at the Mother -Motherland Monument.