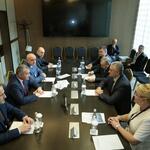 President of the Republic of South Ossetia Anatoly Bibilov, met with the Head of the Republic of Crimea Sergey Aksenov. the press service of the head of state reports.
In the course of the meeting it was discussed the development of bilateral relations.
Sergey Aksenov thanked the delegation of South Ossetia for participating in the significant event for the Crimea - the Yalta International Economic Forum - and noting that the path, traversed by South Ossetia, deserves respect.