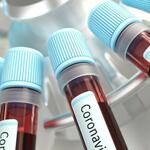 As of the morning of May 10, in South Ossetia, the diagnosis of COVID-19 was confirmed in 22 people (the day before -17), Anna Gagloeva, Deputy chief sanitary officer of the Republic, told IA "Res ".
"They are all isolated in the isolation ward, their condition is stable," Gagloeva said.
According to her, 14 of them are cadets of the Russian universities, 7 citizens who had arrived earlier through the Ministry of Foreign Affairs from North Ossetia and one servicemanr.