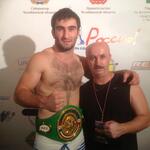 South Ossetiaт professional boxer Murat Gassiev has become the WBC world junior champion. The match took place in Chelyabinsk (Russia) within the frames of the International Festival of Martial Arts "For Russia».
According to the coach of the athlete Vitaly Slanov, Gassiev defeated his rival – the Georgian professional boxer Levan Dzhomardashvili - in the second-round by TKO.
Both athletes performed in the weight class up to 90.7 kg.
Murat Gassiev held 11 professional boxing fights and won all of them, in seven bouts it was a knockout victory. Gassiev is 19 years old; he is a prize- winner of the Russian championship and the Cup of Russia among youth.