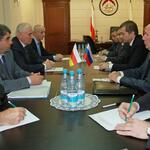 Today in Tskhinval have arrived the RF Presidential Aide for cooperation with South Ossetia and Abkhazia Vladislav Surkov and Deputy Secretary of the Russian Security Council Rashid Nurgaliyev. In the South Ossetian capital has been held a meeting with President Leonid Tibilov and members of the government.
During the meeting, the President has told about the progress of implementation of the Investment program, noting that it covered a lot of facilities and spheres.
In particular, Tibilov has said that in the near future several villages in Leningor district will be provided with drinking water, are being restored socially significant facilities; electrification of the remote villages is ongoing. According to the President, the Investment program also includes gasification of the settlements.
"2013 was successful for South Ossetia. With the assistance of Russia we were able to improve significantly the well-being of the people. Since January pensions and wages were increased, the question of pensions for military personnel is also at the stage of resolving," - said Tibilov.
Vladislav Surkov, in turn, said that Russia would continue to provide assistance in all areas of the Republic.
"We are interested in the development of South Ossetia," - said Surkov, expressing hope for the fruitful cooperation.
"It is the time to move from the restoration of the destroyed economy to implement the next stage of the joint plans. We are ready to discuss the possible corrections of the plans. I also have new ideas, we'll talk about them specifically," - said Surkov.
He also thanked the South Ossetian colleagues for their prompt response to requests and proposals of the Russian side.
Rashid Nurgaliev briefed on the work program of the border regions, expressing the hope that this year will be carried all our plans – will be put into operation the water conduit in Leningor district, the construction of one-story houses in the border area.
The Deputy Secretary of the Security Council has also announced plans to increase the salaries of the South Ossetian border guards, noting that this issue will soon be discussed in the Russian government.
Referring to the forthcoming meeting of the IGC, Nurgaliyev has said that he hopes for the decisions to be made, that will allow looking ahead confidently.
It should be noted that Surkov`s visit to South Ossetia is the first since his appointment as a curator for South Ossetia and Armenia.