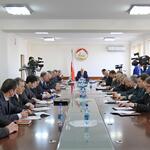 South Ossetian President Leonid Tibilov thanked the members of the Political Council for unanimity and responsible approach in drafting the Treaty of Alliance and integration between South Ossetia and Russia.
"It was a serious and hard work. Thank you for a responsible approach and unanimity. Both the political council and the working group were actively working on the proposals received from the public, political parties, individual citizens", - said the president today at a meeting of the political council.
According to the president, this work resulted in the South Ossetian draft Treaty which was then sent for approval to Moscow.
"After that we have received the Russian version of the draft Treaty, taking into account the proposals of the South Ossetian side, - continued the president. - This project was adopted by the Political Council and published. The work on the document was continued after consultations with the Russian side and we have come to the conclusion on the necessity to create a joint working group."
January 27-28, a joint working group carried out serious work, which resulted in a revised version of the draft Treaty, which today is the most optimal and meets the interests of the peoples of the two countries. "This project was sent to our ministries and departments, as well as sent through diplomatic channels to the Foreign Ministry. The draft Treaty was also be published in our state media. This week began the process of negotiating the document with the public authorities in both countries ", - said Leonid Tibilov.
The President has stressed that the draft Treaty complies with the Constitution and legislation of the Republic and does not infringe upon the structure of the executive branch of the RSO. According to the President, the future treaty will be a continuation and complement to the previous agreements, which will be in effect after its signing.
"Moreover, after the signing of the Treaty we will have a lot of hard work on individual agreements", - said the president.
According to him, the active phase of the draft Treaty has already been completed.
"The Draft Treaty is almost ready, and I assure you that in the near future it will be signed," - said Leonid Tibilov.
He also urged the political forces not exaggerate the theme of the document, stressing that he will not allow further agitating the society.
"Our people have suffered so much, we will have to think about improving the welfare of our citizens, peaceful life in a prosperous state", - concluded the president.