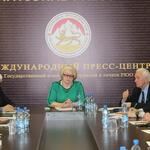 In Tskhinval was held a round table dedicated to the 15th anniversary of the adoption of the Constitution of the Republic of South Ossetia. The event was organized by the State Committee for Information and Press of the Republic. The round table was attended by members of various convocations of the South Ossetian Parliament, experts, government officials, representatives of the media.
Acting Chairman of the State Committee for Information and Press Nelly Dzhussoeva welcomed those present, noting the role of the Constitution in the life of the state.
"It is difficult to overestimate the role and importance of this basic document of our country, - Dzhussoeva said. - The Constitution is the fundamental law of the state, which defines our further development. "
At the beginning of the event, Acting Chairman of Information and Press State Committee congratulated the deputy of the I, III, IV, V convocations, the ex-Speaker of the Parliament of South Ossetia Stanislav Kochiev on his birthday and wished him health, prosperity, long life in the service of his native Ossetia.
Nelly Dzhussoyeva presented to the participants of the round table a new edition of the Constitution.
Dzhussoyeva noted - "the constitutional amendments are periodically proposed to the Constitution. - The last amendment was proposed in 2014. Arbitrary changes to the Constitution are impermissible. The amendments to the Constitution should be proposed as a result of the referendum."
Participants of the round table, in turn, noted the importance of the Basic Law, shared their memories of the events, taking place 15 years ago, when was adopted the Constitution of the Republic.