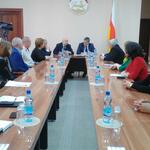 Issues related to conducting medico-social examination were discussed at the meeting of academician of RAMS, Professor, doctor of Medicine, head of the Department of geriatrics and the medico-social examination "Russian medical Academy of postgraduate education" of the Health Ministry of the Russian Federation Sergei Puzin with the head of the Ministry of Health of South Ossetia Gregory Kulidzhanov, State Advisor to the President of the Republic Rodion Siukaev and employees of medical system of the RSO.
The representatives of the South Ossetian party told the Russian academician about the issues arising in the course of medico-social expertise.
"We need to think about what to do if there is any disagreement in matters of medico- social expertise, so we will discuss the ways and think about a certain standard," - said Puzin.
Rodion Siukaev, in turn, pointed to the clause of the Treaty of Alliance and Integration between South Ossetia and Russia, according to which Russian citizens residing in the Republic may undergo examination on the spot.
"Those citizens, who for health reasons cannot undergo examination on the territory of Russia, can undergo it here, and the documents will be accepted by a party, which pays this pension," - said Siukaev.
Puzin, for his part, said that the basic document is ready and it need to be developed legally, the relevant documents should be prepared. - We will help you in this work in every way."
Puzin has also stressed that the leading doctors of the South Ossetian central district hospitals may be trained in Russia.
"You can contact us with the corresponding letter in order to train their primary specialization, after which they will become doctors-experts" - said Puzin.
During the meeting, the doctors asked Puzin their questions.