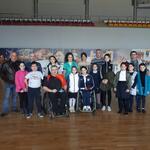 Member of the Russian Paralympic team, the repeated Russian champion, winner of various international table tennis tournaments Alexei Korovin conducted master classes for young tennis players of South Ossetia. The athlete was accompanied by a promising tennis player, Paralympian from North Ossetia Irina Tibilova. About this IA "Res" told the Mirian Dzhioev.
According to the table tennis coach Mirian Dzhioev, the athlete conducted master classes not only for tennis players of Tskhinval, but also for pupils of secondary school №3, gymnasium and boarding school.
"The guys have enjoyed the master classes. During the event, they together with all participants played table tennis, - said the coach. "After this meeting, many pupils who do not play tennis expressed a desire to start doing this sport."
Dzhioev has also noted that the Federation of table tennis of South Ossetia plans to hold a tournament dedicated to the Day of proclamation of independence of South Ossetia and invite Alexei Korovin and Irina Tybilova.
The coach has also explained that the master classes were organized by the Committee for Youth Policy, Sport and Tourism and the Federation of Table Tennis of South Ossetia, with the support of the head of state Leonid Tibilov.
The meeting of the Paralympians with schoolchildren was held in the Sports Palace "Olympus".