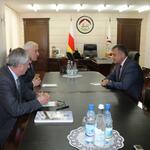 President of South Ossetia Leonid Tibilov met with the new head of state Anatoly Bibilov, who won the elections on April 9.
Tibilov congratulated Anatoly Bibilov on his election as president of the country and wished him success in his new post.
"You have become the new president of the country for the next five years," said Tibilov. "I want to congratulate you on behalf of myself, as well as on behalf of the government and voters, whom we should thank for having taken such active part in the elections."
Tibilov wished the elected president to implement the plans for the benefit of the people and the state.
"I sincerely congratulate you on the victory in the elections, and the fact that you became the President of the Republic of South Ossetia speaks about the attitude of our people to work with the new president, the new team, and let us all wish our people success and prosperity and advancement to our state."
Anatoly Bibilov, in turn, expressed his gratitude to Leonid Tibilov for his congratulations and principled position in the last elections.
"I also want to express my gratitude to our people, who took an active part in the elections. This suggests that people have high expectations. Yes, some work was done, but they have linked the future with the new president. For my part, I want to note that we will carry out what we have promised.
Thank you, you have shown a principled position during the elections. I think that on the basis of what has been done we will continue to do everything in order to make the life of our people better. "
Bibilov also expressed gratitude to the CEC members, polling stations and territorial election commissions for the work done at a good level.
The meeting was also attended by the head of the Presidential Executive Office Alan Tekhov.