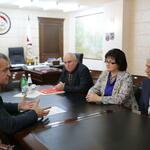 President of South Ossetia Anatoly Bibilov has received the "Daryal" society activists, headed by the Chairman of the public organization Gairbek Salbiev.
As reported by the press service of the President and the government of the Republic, "natives and residents of the Kazbegi district, who are members of the organization, have repeatedly stated the violation of their rights by Georgia to visit their homes, tombs of their ancestors, as well as to communicate with relatives in the region, historically populated by the Ossetians".
"Our problems, which we have been talking about for a long time, do not go unheeded, but at the same time we need to find new levers and involve new organizations to address the issue," said Salbiev.
He told that he had prepared an appeal addressed to the President of the RSO and the head of the Republic of North Ossetia-Alania, the parliaments of both republics, which, in the opinion of the public figure, should advance a unified position.
According to Anatoly Bibilov, South Ossetia does not remain aloof from the problem of the natives of Kazbegi district, who are not admitted to their historical homeland by the Georgian authorities.
"I always talked about that the problem facing the Ossetian people cannot be considered as separate for the south or for the north, these are our common problems. Therefore, South Ossetia is ready to defend the interests of the residents and descendants of Tyrsygom at all possible levels. The delegation of South Ossetia raised this issue at the Geneva discussions, "Anatoly Bibilov said.
The President has noted that the objection of the Georgian representative, who has stated that the authorities in Georgia can use their own discretion, was not supported by the co-chairs of the discussions, as it violates the rules of international law.