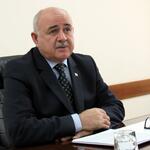 At the briefing in Tskhinval South Ossetian Foreign Minister Dmitry Medoev told about his participation in the 11th European Russian forum "The EU 2017 and the Russian Revolution of 1917: Lessons Learned," held in the European Parliament in Brussels.
According to the Foreign Minister, at the forum he delivered a report on the topic "South Ossetia-Russia: two and a half centuries of joint history".
"The conference in the European Parliament was held at a very high level, it was attended by a number of active members of the European Parliament from various countries," Medoev said.
In his speech, the Foreign Minister stressed the importance of the decisions taken by the Russian leadership in August 2008 to recognize South Ossetia's independence.
"We were bringing the European listener to the fact that South Ossetia has very deep long-standing ties with Russia, and its recognition of our Republic had a very serious basis, including historical, especially political. We particularly emphasized the role of those decisions taken by the Russian leadership in August 2008 regarding our Republic, "the Minister said.
The then decisions of Russia's top leadership, according to Medoev, have led to the fact that today the population of the Republic lives in peace and has the opportunity to develop and build its statehood.
"We have good prospects for raising the economy and improving life in the country. And this is the merit of those decisions that were adopted by the leadership of Russia in 2008, "Medoev said.
He has added that the South Ossetian side also drew the attention of the forum participants to the current development of the situation around South Ossetia, connected with the policy of neighboring Georgia.
"Cooperation with Georgia with the North Atlantic bloc is expanding, various exercises are conducted, and the armed forces of Georgia are being rearmed. Such situation was already before 2008, and we know its consequences. Therefore, we expressed our concern, because such processes cannot lead to peace, but only aggravate the situation, "Medoev emphasized.
He has noted that the deputies at the forum understood perfectly the concern of the South Ossetian side on this issue.
"They perfectly understood what was the issue, and who in our case is the aggressor," said the South Ossetian Foreign Minister.
The Minister has explained that despite the statements of the Georgian propaganda about the full support of Georgia's position by Europe, in fact the situation is different. "This is completely wrong. And just the hysteria of the Georgian media about our participation in this event was essentially caused by the fact that we have seen another Europe, which they do not want us to see, "Medoev said.
He has added that the participation of South Ossetia in the forum held in the European Parliament is the beginning for further actions of the Republic.
"We will lead our country forward", - concluded the head of the Ministry of Foreign Affairs of the RSO.