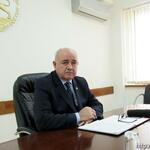 Ossetia should declare its position at the leading international venues, said the head of the South Ossetian Foreign Ministry Dmitry Medoev, at a press conference.
"The work is being done to ensure that the representatives of South Ossetia can have access to the stands of the most important European and world institutions, so that the position of the Republic will sound on a par with the position of our opponents," - Medoev said.
According to him, today, the so-called countries from the group of friends of Georgia block objective information about South Ossetia and Abkhazia.
"At the same time, they spread around their information, distorted to the highest degree, in Europe, in the international information space, creating Georgia the image of a victim country, that is subjected to "aggression "and "occupation," - the Foreign Minister stressed.
According to Medoev, the establishment of cooperation with representatives of the media of other countries of the world, ready to cover the situation in South Ossetia without any prejudice, is very important in this task.