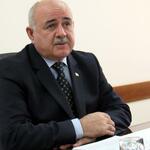 Foreign Minister of South Ossetia Dmitry Medoev expressed his opinion on Georgia's unwillingness to sign agreements on the non-use of force with South Ossetia and Abkhazia.
"At the Geneva discussions, the South Ossetian and Abkhaz delegations insist that Georgia commit itself to the non-use of force against our countries, but, unfortunately, this issue has not yet found the understanding from the other side," - Medoev said.
He has noted that the need to sign such a document is absolutely obvious.
"This is a security guarantee, the basis by which we can conduct a dialogue without any fear for tomorrow, - the South Ossetian Foreign Minister stressed. - We have bitter experience of aggression and wars on the part of Georgia since 1989."
Against this backdrop, Georgia's refusal to assume such obligations, according to Medoev, reinforces mistrust towards the Georgian side.
"Proceeding from this, one can draw a simple conclusion that all the words about peaceful intentions that we hear from Tbilisi are just a declaration," - Medoev said.
The Foreign Minister said that with the change of power in Georgia, the attitude towards South Ossetia does not change, on the contrary, continuity remains.
"Each Georgian government initiated an attack on South Ossetia. And with the change of power nothing has changed absolutely with regard to our Republic. We see double standards - peace declarations on the one hand and unwillingness to sign a document on the non-use of force against South Ossetia and Abkhazia on the other hand," - the Foreign Minister noted.