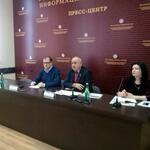 Foreign Minister of South Ossetia Dmitry Medoev spoke about the friendly attitude of the people of the Republika Srpska to the arrival of a delegation from the RSO led by President Anatoly Bibilov.
"The reception was very warm. The population was aware of who is visiting them and everywhere we saw a benevolent attitude. The people of the Republika Srpska are hardworking and very hospitable," - the Minister said.
He has noted that after signing the agreement on cooperation between the Republika Srpska and South Ossetia, it was organized an approach to the press of the two presidents - Anatoly Bibilov and Milorad Dodik.
"The local newspaper journalist asked Dodik to comment on the fact that the Georgian side sent a note of protest in connection with the stay of Anatoly Bibilov in Bosnia and Herzegovina, to which the President of the Republika Srpska replied very briefly and clearly that "there is nothing surprising in this. Georgia is not a friendly country for us, but South Ossetia is friendly to Republika Srpska," - Medoev said.
According to him, this shows the attitude of the leadership and the people of Republika Srpska towards the President and the people of South Ossetia.