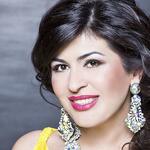 The first international festival "The Space of Opera" by the famous opera singer Veronika Dzhioeva will be held in Moscow from February 25 to March 21. This is reported on the website of the Moscow Theater New Opera, named after Kolobov.
The festival is a joint project of our compatriot, the brilliant Veronika Dzhioeva and the Moscow Theater "New Opera" named after Kolobov.
Within the framework of the project, five evenings will be held. On the first evening the audience will hear the opera "Aida" by Giuseppe Verdi in a concert performance, on the second evening Veronica Dzhioeva will perform a solo concert "Mozart. Arias".
The third evening is dedicated to the classical Russian romance and Dzhioeva will again perform solo. Within the frames of the project will also be presented the opera"Troubadour" by Giuseppe Verdi, and "the Gala-Opera" - a concert in two parts.
The performances will take place on 24, 28 February and 11, 17, 21 March.
The organizer of the event is the Moscow Department of Culture.
Veronika Dzhioeva is the Honored and People's Artist of the Republic of South Ossetia and the Republic of North Ossetia-Alania, a laureate of many international and Russian competitions, winner of the Golden Mask festival and the winner of the television contest "The Big Opera".
In the repertoire of the singer are the parts in the most famous operas: the part of Tatiana in the opera "Eugene Onegin" by Tchaikovsky, the part of Iolanta in the same named opera by Tchaikovsky and many others.
Veronica Dzhioeva tours a lot around the world, performing at the best world venues, collaborating with the most famous orchestras and conductors.
Фото: russiaartnews.com