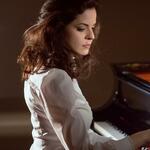 An outstanding pianist from South Ossetia Zlata Chochieva will perform on February 3 in conjunction with the Governor's Symphony Orchestra in the concert hall of the Irkutsk Regional Philharmonic. The event will be held within the framework of the program of the Ministry of Culture of the Russian Federation "All-Russian Philharmonic Seasons", which includes a series of concerts "Stars of the 21st Century".
As reported by the Siberian News, "in the program on February 3, there will be Sergei Prokofiev, Concerto for piano and orchestra. Symphony No. 3. Mikhail Kukushkin from St. Petersburg will conduct the orchestra".
On February 9, Zlata Chochieva in a duet with laureate of international competitions Misha Dacić (Serbia) will perform at the concert hall of the Ryazan Regional Philharmonic.
The Russian-Serbian piano duet will perform works of different times - S. Rachmaninov, F. Chopin, F. Liszt, V.A. Mozart, M. Ravel. Misha Dacic transcribed Rakhmaninov's poem, called by the author "Choral Symphony of the Bell" for two pianos, and the Ryazan audience will be among the first to hear the performance of this work.
Honored Artist of the Republic of North Ossetia-Alania Zlata Chochieva is a laureate of many international music competitions. She is a graduate of Salzburg University "Mozarteum" and the Moscow State Conservatory, performs in the world best concert halls, takes part in the most famous music festivals in Russia, Sweden, Switzerland, the USA, etc.
Фото: sgaf.ru