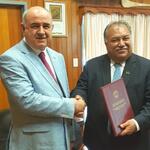 January 26. President of the Republic of Nauru Baron Waqa received in his residence the Minister of Foreign Affairs of South Ossetia Dmitry Medoev.
As reported by the press service of the Ministry of Foreign Affairs of South Ossetia, during the conversation, the Minister thanked President Baron Waqa for the invitation and once again expressed his gratitude to the leadership of the Republic of Nauru for the decision taken in 2009 to recognize the independence of the Republic of South Ossetia".
Dmitry Medoev also presented Baron Waqa with a congratulatory message from the President of South Ossetia Anatoly Bibilov on the occasion of the main national holiday - Independence Day of the Republic of Nauru.
President of Nauru, for his part, asked to convey the words of gratitude to Anatoly Bibilov for his congratulations.
He expressed gratitude for the visit of the delegation of the State of Alania, stressing the friendly nature of the relations between the two countries.
According to Baron Waqa, the participation of the South Ossetian delegation in the events dedicated to the celebration of the Independence Day of Nauru will serve to bring closer the peoples of South Ossetia and Nauru.