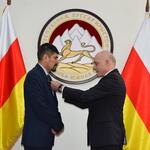 The first Deputy Head of the Foreign Ministry of South Ossetia, Andrei Tskhovrebov, awarded the President Anatoly Bibilov`s award to the Nicaraguan diplomat. During the meeting at the Embassy of the RSO in the Russian Federation with Juan Ernesto Vázquez Araya in connection with the completion of his diplomatic mission as the Ambassador of the Republic of Nicaragua to the Republic of South Ossetia, Tskhovrebov highlighted the personal contribution of Juan Araya to the process of strengthening friendly relations and interaction between the two countries.
According the press service of the South Ossetian Foreign Ministry," Andrei Tskhovrebov presented the Nicaraguan diplomat with the Order of Friendship of the Republic of South Ossetia, under the decree of President Anatoly Bibilov."
During the conversation held in a warm atmosphere, a positive assessment was given to the state and prospects for strengthening the South Ossetian-Nicaraguan cooperation.
In addition, diplomats of the two countries have outlined new steps for further development of contacts between Nicaragua and South Ossetia.