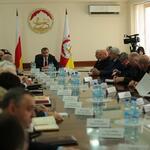 Citizens of the Russian Federation residing in South Ossetia are obliged to fulfill their civic duty by coming to the polls and voting for the future, said President of the Republic Anatoly Bibilov at an enlarged meeting in Tskhinval.
He has noted that the fate of South Ossetia is closely related to the fate of the Russian Federation.
"I do not hide and none of us is hiding their aspirations, their choice," said Bibilov. "We will vote for the person who, in the most difficult time for South Ossetia, was with our people, with our children."
The head of state has stressed that Ossetians always valued friendship, devotion and they were always reliable, faithful friends.
The President expressed confidence that Ossetians, wherever they lived, in Russia or abroad, would take an active part in the election of the head of the Russian Federation.
In his turn, the Russian Ambassador to South Ossetia Marat Kulakhmetov thanked those present for their assistance in conducting early voting in remote settlements of the Republic.
Kulakhmetov also talked about the results of the early voting and informed about the voting procedure on March 18.