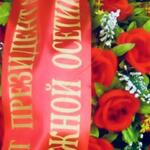 Employees of the South Ossetian embassy in Russia laid a wreath on behalf of the Republic's President Anatoly Bibilov to the memorial at the Piskarevsky cemetery in St. Petersburg.
According to the press service of the diplomatic mission of South Ossetia, the laying of wreath took place during the solemn ceremony dedicated to the 73rd anniversary of the Victory of the Soviet people in the Great Patriotic War.
The memory of the fallen soldiers of the Great Patriotic War and the inhabitants of the besieged Leningrad was also honored by the Governor of St. Petersburg Georgy Poltavchenko, the Presidential Envoy to the Northwestern Federal District Alexander Beglov, the Governor of the Leningrad Region Alexander Drozdenko, members of the governments of St. Petersburg and the Leningrad Region, deputies of the Legislative Assembly of Leningrad Region , judges of the Constitutional Court of the Russian Federation, representatives of the diplomatic corps, residents of St. Petersburg, etc.
Piskarevsky memorial cemetery is the main burial place for residents and defenders of Leningrad.
In total, 420,000 residents of the city who died from hunger, cold, disease, bombardments and shelling, as well as 70,000 soldiers of the Red Army defending Leningrad, are buried in mass graves. memorial There are also about 6 thousand individual military graves at the memorial.