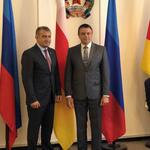 President of South Ossetia Anatoly Bibilov, during the visit to the Luhansk People's Republic, held a meeting with the acting head of the LPR Leonid Pasechnik.
Bibilov wished Pasechnik success in his work and congratulated him on the upcoming Republic Day, which in the Luhansk People's Republic is celebrated on 12 May.
The President of South Ossetia expressed an intention to deepen relations between the RSO and the Luhansk People's Republic.
"The relations between our republics cannot but rejoice. We have gone through the same difficult path that the people of Luhansk and Donetsk people's republics are going through today. I always emphasize that if the people are determined in their choice, then taking into account the courage of people living in the Donbass, we can confidently say that the goals and tasks will be achieved, " - Bibilov said.
He has stressed that South Ossetia is ready to support the LPR.
"We will always be ready to help you, and I am confident that we will soon sign the state agreement to have a legal basis for the development of relations," - said the President of South Ossetia.
Leonid Pasechnik for his part has expressed confidence that the LPR and South Ossetia have much in common, and the development of relations will benefit the two peoples.
"We are obliged to communicate more closely both in terms of international relations and in terms of friendly relations. And the sooner we unite our efforts, the sooner all military conflicts will end. I am confident that this visit and our warm communication will be the basis for the development of relations, including the economic sphere," - Pasechnik said.
He also expressed gratitude to the leadership and the people of South Ossetia for the recognition of the independence of the LPR.
The delegation of South Ossetia is in Lugansk on a one-day visit. The delegation, has included the Chairman of the South Ossetian Parliament Committee on Foreign Relations Igor Kochiev, deputy Alexander Pliev, presidential aide of the RSO David Gazzaev.