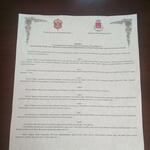 South Ossetia Foreign Minister Dmitry Medoev spoke about the main aspects of cooperation between Tskhinval and the Italian city of Gradara.
The agreement between the capital of South Ossetia and the Italian municipality was signed on May 24 during a visit to Italy by the Foreign Minister of South Ossetia and the head of the administration of Tskhinval Alan Kochiev.
According to Medoev, the text of the agreement with the city of Gradara is written in two languages ​​- Ossetian and Italian.
"The agreement between Tskhinval and the Italian city of Gradara provides for cooperation between the administrations in the field of municipal economy, economic exchanges, involves holding various round tables, visits of youth delegations to the two cities," - he said.
The Foreign Minister has noted that when visiting Gradara, the South Ossetian delegation was greeted with great cordiality.
"Gradara is a very beautiful resort town not only in Italy, but in Europe as a whole," Medoev said. "They received us very warmly, a whole program of our stay was drawn up, they showed us the city, told us about its sights."
The Minister has noted that the office of the foreign Ministry of South Ossetia, which also maintains relations with Ossetians living in this country, is actively working in Italy.