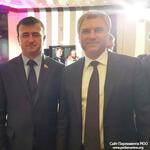 The Chairman of the Parliament of the RSO Peter Gassiev, who is taking part in the International Forum "Development of Parliamentarism" in Moscow, has held a number of meetings aimed at developing inter-parliamentary relations,
As reported by the press service of the Parliament of the RSO, the parliamentary delegation of the Republic of South Ossetia has also included the Chairman of the Parliamentary Committee on Foreign Policy and Inter-Parliamentary Relations Igor Kochiev.
According to Peter Gassiev, a meeting was held with the Chairman of the State Duma of the Federal Assembly of the Russian Federation Vyacheslav Volodin, where they discussed a range of issues aimed at developing inter-parliamentary cooperation.
n addition, meetings were held with the delegations of the Republic of Abkhazia and the Syrian Arab Republic. We expressed our gratitude to our Syrian colleagues for the courageous step that was recently demonstrated when Syria recognized the independence of South Ossetia.
Today the forum participants will continue to work in the sections. Also, it is planned to hold round tables on parliamentary dimension of youth policy and international humanitarian law issues. In addition, the results will be summed up at the plenary session "Parliamentarism as an institution for international cooperation", and the outcome of the discussion will be the adoption of the final declaration.