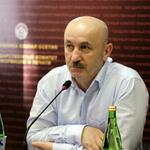 The WBA and IBF first heavyweight world champion Murat (IRON) Gassiev cannot conduct other boxing matches before the WBSS final with Alexander Usik. This said in an interview with the news agency "Res" the coach of Gassiev Vitaly Slanov, commenting on the information in the media about a possible fight between the Ossetian boxer and the American Andrew Tabithi before meeting with Alexander Usik in the WBSS final.
"Murat has a contract with the organizers of the World Boxing Super Series. He cannot hold other fights before the finals - it's out of the question," Slanov said.
The WBSS final, he said, is likely to be held on July 21 or 22.
"As the venue for the final match, countries such as Russia, Germany, England and Australia are considered. Saudi Arabia is also being considered, but it is unlikely that it will eventually be chosen, "he explained.
Slanov has added that the final decision will be made within 10-12 days.
The long-awaited final fight within the WBSS between Gassiev and Usik was scheduled for May of this year. In connection with the injury of the Ukrainian athlete, the match was postponed indefinitely. Later another date was named - June 21.
The winner of the World boxing super series will get the belt The Ring, will be the WBC, WBO, WBA, IBF champion and will become the owner of a special cup of Mohammed Ali.
Murat Gassiyev is now in the United States, preparing for the fight under the leadership of the famous coach Abel Sanchez.