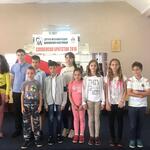 Young chess players from South Ossetia are showing themselves worthily at the international chess festival "Slavic brotherhood "in the Republika Srpska.
According the President of the South Ossetian Chess Federation, in his interview with the "Res" news agency, South Ossetian chess players have already won their first victories in the tournament.
"The best results among our three players are shown by Elena Kotaeva, who has already won several victories," Shavlokhov said.
Young chess players from the Russian Federation, Abkhazia, Belorussia, Serbia and South Ossetia are taking part in the festival.
The project is organized with the support of the Ministry of Family and Youth Policy and Sports of the Republika Srpska with the assistance of the RS representation office in Russia.
The aim of the project is to develop and strengthen sport and cultural cooperation between the Slavic peoples through the Second International Chess Festival "Slavic Brotherhood - 2018" in the period from June 15 to June 30, 2018. The technical organizer of the festival is the chess union of the Republika Srpska.