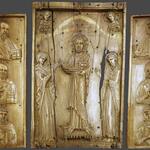 Representatives of South Ossetia at the next round of the Geneva discussions held on June 19-20, again raised the issue of returning a unique icon-triptych stolen from the National Museum of the RSO and now located in Georgia.
This is stated in the message of the South Ossetian delegation to the media.
In addition to the triptych, the delegation of South Ossetia again drew attention to the threat to preservation of historical and architectural monuments in East Ossetia.
"Attention was drawn to the problem of the threat of preservation of the Ossetian historical and cultural monuments in the territories of Eastern Ossetia, being under Georgia's control. Representatives of the South Ossetian delegation once again appealed to the Georgian side to allow experts to survey and assess the condition of the monuments of the Ossetian historical and architectural heritage in the historical region of Ossetia Tyrsygom, which is under the control of Georgia," - the report says.
It was reminded that East Ossetia was completely depopulated due to the expulsion of the Ossetian population.