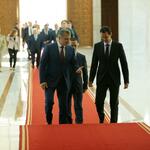 South Ossetia with the assistance of Syria will take certain steps to establish contacts with other states of the Middle East region, said President Anatoly Bibilov at a briefing in Tskhinval.
According to the head of state, South Ossetia has received assurances from the Syrian Arab Republic that actions will be taken from Damascus aimed at promoting the interests of Tskhinval in other countries of the region with which Syria maintains friendly relations.
Bibilov has added that we are talking about cooperation in both the political and economic spheres.
The President of the Republic has also stated that the process of recognition of South Ossetia is irreversible.
"In addition to Syria Syria, we will be recognized by other countries located in different regions of the world. Recognition of South Ossetia is an irreversible process that began on August 26, 2008 with a decision taken by the leadership of the Russian Federation, " Bibilov stressed.
The Head of State has noted that Russia and South Ossetia are strategic partners that support each other in all spheres of activity.