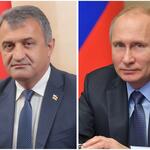 The heads of Russia and South Ossetia held a telephone conversation, discussing topical issues related to cooperation between the two countries.
As reported by the Kremlin press service, during the conversation, the leaders of Russia and South Ossetia also touched on the upcoming celebration of the 10th anniversary of recognition of the Republic's independence by the Russian Federation.
"Topical issues of the Russian-South Ossetian cooperation have been discussed, including the upcoming tenth anniversary of Russia's recognition of the independence of South Ossetia," the Kremlin specified.