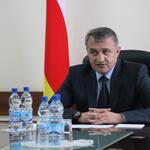 The decade of the August 2008 events and the recognition of the independence of South Ossetia by the Russian Federation caused a surge of interest in the Republic from the Western media.
To highlight commemorative events dedicated to the August 8, 2008war, representatives of about two dozen mass media of Russia and foreign countries got accreditation in the information department of South Ossetia.
In general, as reported to the news agency "Res" by head of the State Committee for Information and Press of the RSO Maria Kotaeva, on the eve of the tenth anniversary of the August events, South Ossetia has already been visited by more than 40 representatives of leading Russian and Western media
Among them, for the first time in recent years, the Republic was visited by journalists of BBC, Washington post, French radio, a number of publications from Germany, etc.
According to Kotaeva, the BBC correspondents made a series of reports about South Ossetia within three or four days, met with eyewitnesses of the 2008 events and visited facilities built at the expense of investment programs of the Russian Federation.
In addition, representatives of the British public broadcaster interviewed the President of South Ossetia Anatoly Bibilov.
In an interview with British journalists, the head of state spoke about the country's domestic and foreign policies, and also outlined the main directions of socio-economic development of South Ossetia.
The BBC correspondents were interested in the question of the entry of the Republic into Russia.
As noted by Bibilov, the accession of South Ossetia to the Russian Federation is only a matter of time.
"Sooner or later, South Ossetia will become part of the Russian Federation. We are ready for this," he said.
Bibilov has added that this is not his personal initiative, but the centuries-old aspiration of the Ossetian people to overcome the artificial division and reunite within the framework of one state.