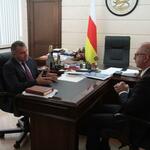 The results of the working visit of the delegation of the Chamber of Commerce and Industry of the Republic of South Ossetia to the Syrian Arab Republic within the framework of the Damascus International Fair have been discussed during the meeting of President Anatoly Bibilov and the Chairman of Chamber of Commerce and Industry Alan Alborty
As reported to IA "Res" by the press service of the President and Government of the Republic,the head of the CCI thanked the President for the help rendered in organizing the trip of the South Ossetian delegation to Damascus. He has stressed that the visit of the delegation of the Chamber of Commerce and Industry of South Ossetia to the SAR was successful: the South Ossetian side demonstrated the technological capabilities of the Republic and reached cooperation agreements with Syrian partners.
"During the meeting with representatives of the Syrian Ministry of Construction, an understanding was reached of what we can do to help the Syrian side. In particular, it was a question of building prefabricated structures, in which there is an urgent need.
During the day we organized a meeting with Syrian partners, quickly preparing all the technical documentation. South Ossetian companies will build schools, hospitals, clinics, kindergartens, everything that will be ordered in Syria, "said Alan Alborty.
He has also noted that the Chamber of Commerce and Industry of the Republic of South Ossetia will be provided with an office in the center of Damascus, where an exhibition stand will be located with products of automatics and modular technologies of South Ossetia, and South Ossetian entrepreneurs will be able to communicate with Syrian counterparts online.
In turn, Anatoly Bibilov has stressed that it is necessary to give impetus to the rapid implementation of all the agreements reached between the parties, in particular, to work with investors and prepare the South Ossetian legislation to ensure the most comfortable conditions.
Summing up the trip, Alan Alborty has noted that cooperation with the Syrian Arab Republic, which has agreements with the Arab countries on a duty-free zone, represents a unique opportunity for the Republic of South Ossetia to enter the Arab world with a multimillion population. He has added that the government and business community of Syria follow the common strategy in the issues of the country's reconstruction, preferring the friendly countries in this process: Russia, China, Iran, South Ossetia and Abkhazia.
It should be noted thatthe Damascus International Fair is one of the oldest in the Middle East region. It was held under the patronage of Syrian President Bashar Assad. In addition to South Ossetia, Russia, Abkhazia, countries of Africa, the Middle East, Southeast Asia and Latin America were also represented at the fair.