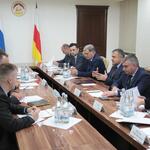 The constructive processes, taking place in South Ossetia, are visible to the naked eye, Deputy Head of the Presidential Executive Office for Socio- Economic Cooperation with the CIS member states, republics of South Ossetia and Abkhazia Denis Travin said during a working meeting on economic cooperation between Russia and South Ossetia in Tskhinval.
"It is always pleasant to come to South Ossetia not only on holidays, but also on weekdays, because you can see with your own eyes the results of the constructive process in the Republic that is visible to the naked eye," Travin said.
He also touched upon issues related to the instructions of Russian President Vladimir Putin following the meeting of the heads of the Russian and South Ossetian states.
"The tasks set before us by Vladimir Putin primarily concern improving the welfare of Russian citizens and workers in the budgetary sphere of South Ossetia. We should gradually resolve the issue of bringing their wages to the level of salaries in the North Caucasus Federal District, "Travin said.
President of South Ossetia Anatoly Bibilov, in turn, noted that the investment Program in the Republic is implemented at the proper level in all indicators.
"First and foremost, this is the achievement of mutual work between the structures of Russia and South Ossetia," the head of state said. - The Intergovernmental Commission will soon be held, and we will have to work seriously to prepare the relevant issues for it. In principle, they are ready, and they need to be discussed. "
The meeting continued without media representatives. The Russian delegation arrived in Tskhinval for two days.