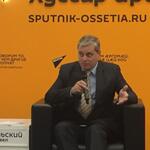 Most of the tasks that were set before the invited Russian specialists over the past three years, have been practically solved,said Adviser to the Ministry of Economic DevelopmentPavel Kovalsky at a press conference in Tskhinval, summing up his work in South Ossetia.
According to him, initially they were tasked to help specialists from South Ossetia to increase the economic independence of the Republic.
"That is, it was necessary to make the Republic itself to earn more, so that the government could more freely and fully solve some social problems and the like," said Kovalsky.
The Adviser noted that three key areas of work had been formed to address this strategic objective.
"The first of these was the need to concentrate efforts on finding reserves for replenishing the state budget," Kovalsky said.
The second direction concerned active interaction with the business community of South Ossetia in order to help solving the existing problems, successfully developing their business and reaching the modern level of business management.
"The third direction was probably the most difficult and most important," Kovalsky believes. "This is attracting the first wave of investors to the Republic of South Ossetia, who in practice, if implementing serious enough projects, would convince others that in South Ossetia there really is an opportunity to implement investment projects, you can work and earn money."
According to the counselor, active work was carried out in all these areas in the Republic.
"For example, if we look at the dynamics of growth in the state's own budget revenues by the end of 2015, this is 785 million, by the end of 2017, just over a billion," said Kowalsky. "It is possible that this year the amount of income will be much more."
He added that he had always called on entrepreneurs of South Ossetia to understand that "it's not profitable to work in the shadow under modern conditions, you need to go out and build your business on a civilized basis."
"And people understood the efficiency of doing business in "white", and at least began to emerge from the shadows. Over these three years, the business community has largely revived," Kovalsky believes.
Adviser to the Ministry of Economic Development has added that if at the end of 2015, only one private investment project, BTK-4, was implemented in the Republic, then today nine projects are being implemented in South Ossetia at once.