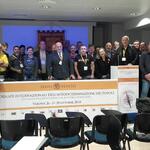 Presidium of the Congress of Self-Determination of Peoples,held in Verona with the participation of the Minister of Foreign Affairs of the RSO Dmitry Medoev, adopted an appeal in support of South Ossetia.
According to the Ministry of Foreign Affairs of the Republic, the appeal was made following the speech of Medoev.
The appeal expresses support and solidarity with the people of the Republic of South Ossetia in realizing their right to self-determination and international recognition in accordance with the provisions of the UN Charter and other fundamental international documents," the South Ossetia Foreign Ministry said.
The Congress strongly condemned the counterproductive actions of Georgia, including the refusal of the Georgian side to sign an agreement on the non-use of force against South Ossetia in the Geneva discussions.
The appeal also refers to the inadmissibility of a military solution of the conflict and the lack of. alternative peaceful settlement of all interstate problems.