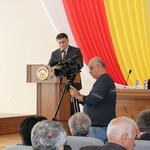 The South Ossetian Parliament ratified the Treaty of friendship and cooperation with Syria at today's session.
According to the head of the parliamentary committee on foreign policy and inter-parliamentary relations, Igor Kochiev, the document is presented in two copies - Ossetian and Arabic.
"The Agreement implies cooperation between our countries in various fields, with its adoption the interstate relations of South Ossetia and Syria will reach a qualitatively new level," Kochiev said. "One of the parts of the document says that an inter-parliamentary agreement between the legislative bodies of our republics will also be concluded," Kochiev said.
The deputies, in turn, unanimously voted to ratify the Treaty.
It should be reminded that the signing of the basic interstate document took place during the official visit of the South Ossetian President Anatoly Bibilov to Damascus on July, 2018.
The framework agreement between Syria and South Ossetia involves cooperation in the field of foreign policy, cooperation in strengthening peace and creating the conditions necessary for the development of the two countries' economies.