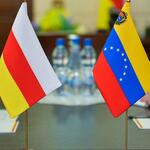 Щn Monday the Parliament of South Ossetia adopted a statement in which it expressed its full support for the legitimately elected President of Venezuela, Nicolas Maduro, and condemned the gross interference of the United States in the internal affairs of a sovereign state, the press service of the legislature reports.
According to the statement, "realizing geopolitical interests, the United States intends to carry out another "color" revolution and establish a puppet regime in Caracas to strengthen its position in Latin America. The actions of the American authorities show that they are behind the attempted coup in Venezuela, thereby provoking large-scale bloodshed. "
The aggressive US policy, according to parliamentarians, has already led to bloody wars in Libya, Syria, Ukraine and in other countries of the world.
According to the authors of the statement, it is "obvious, that now Washington intends to create a new hotbed of long-term destabilization, disrupting all attempts at a peaceful settlement of the situation in Venezuela"
The Parliament of South Ossetia stands for resolving the domestic political crisis in Venezuela within the framework of the constitutional field, considering external interference and unceremonious sanctions pressure to be unacceptable.
"We also welcome the position of the Russian Federation aimed at preserving the supremacy of international law and preventing the armed intervention against Venezuela," the text says.