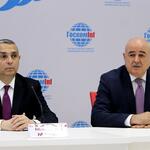 At a briefing in Tskhinvali, South Ossetian foreign Minister Dmitry Medoev has noted that the Republic and Artsakh not only have a similar history of the development of the states, but they also have tragic events, answering the question of the correspondent of IA "RES" about the readiness of Artsakh to assist in the recognition of the genocide of South Ossetia.
"We are working on the topic of genocide with the leadership of the Republic. This problem is raised at various venues and is particularly relevant against the background of the statements that we hear from the Georgian politicians. It smells like cynicism when they call us brothers," the Minister said, stressing that not any official has yet apologized to South Ossetia for the actions and crimes committed against the South Ossetian people.
Minister of Foreign Affairsof the Artsakh Republic Masis Mailyan expressed the willingness to cooperate with the South Ossetian party in terms of recognizing the genocide.
"We are always ready to discuss and assist through the Armenian diasporas in recognizing the genocide of the South Ossetian people," he said.
Mailyan spoke about the work of the Armenian diasporas in recognition of the genocide of the Armenian people.
"The Diaspora was created because there was a genocide in Western Armenia in 1915, now it is the territory of Turkey. Since then, the Diaspora has done tremendous work so that the genocide of Armenians to be recognized by the Ottoman Empire," he said.
According to the Artsakh Minister, now the work is being done in the direction that the countries where the Armenians live and there are Armenian diasporas would recognize the independence of the Artsakh Republic.
"We have quite good results in the USA, where 8 states recognized our independence, including California. In addition, we have sister cities in Europe and in the countries of the Middle East, " said Mailyan.
It should be reminded that next year marks the 100th anniversary of the genocide of South Ossetians.