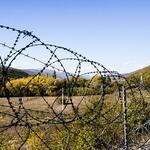 The South Ossetian party rejects the statements about the so-called "Russian borderization" on the border between South Ossetia and Georgia, said Presidenti Plenipotentiary Envoy of South Ossetia for post-conflict settlement Murat Dzhioev.
"All work on the designation of the state border line between the Republic of South Ossetia and Georgia (but not Georgia) is carried out exclusively by the relevant border authorities of South Ossetia and exclusively on the South Ossetian territory at some distance from the border line," Murat Dzhioyev told reporters.
"The Georgian authorities, not recognizing and not seeing the long-established realities, do not react to the repeated proposals of South Ossetia's representatives to start working together to define and designate the state border line," he added, noting that the designation of the border with the appropriate engineering barriers will largely stabilize the situation and meets the interests of the local population on both sides of the border.
At the same time, the Plenipotentiary Envoy of South Ossetia called Tskhinval's decision to close the border with Georgia on January 11 as forced in connection with an outbreak of "swine flu" on the Georgian territory and called Tbilisi's propaganda statements "about temporary blocking of checkpoints as "violation of the rights of local residents.
Dzhioev has noted that in South Ossetia, the situation in Georgia is being monitored and, as the epidemiological situation improves, the issue of the full restoration of the check points in a simplified manner will be resolved.