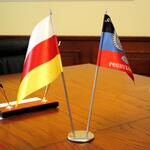 South Ossetia and the self-proclaimed Donetsk People's Republic signed an agreement on inter-parliamentary cooperation. The signing took place in Donetsk. The document was signed by the heads of parliaments of South Ossetia and the DPR Peter Gassiev and Vladimir Bidevka.
"The Agreement only defines the opportunities that we will have, the main work will fall on the chairmen of the relevant committees ... Let's hope that this agreement will bring practical assistance to the people of Donbass and South Ossetia," Gassiev said to journalists.
He has noted that between South Ossetia and the DPR there are "great opportunities for interaction." According to him, in the framework of cooperation will be held exit meetings of representatives of the committees.
"Today there will be meetings of representatives of the committees from our side and our South Ossetian comrades: this is the committee on international relations, public health, social policy. And they will work out those issues," he said.
South Ossetia in 2014 recognized the independence of the self-proclaimed DPR and LPR. Diplomatic relations have been established between Tskhinval and the republics. In Donetsk and Lugansk there are representative offices of South Ossetia, in Tskhinval - representatives of the DPR and LPR.