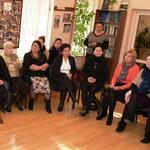 Families of the missing South Ossetian citizens do not intend to speculate on the remains of the Georgian citizens, and they hope that Georgia will respond by indicating the location of our missing citizens, told reporters Lidiya Kudzieva, the Chairman of the public organization"Memory and Hope".
She has noted that in 2017, in the area of ​​the village of Tamarasheni, the International Committee of the Red Cross (ICRC) together with the South Ossetian side exhumed the remains of the citizens buried there who had been lost during the war in August 2008.
"As a result of the examinations, it turned out that they were all of Georgian nationality. And, unlike the Georgian side, we did not intend to speculate on the bodies of the dead and did not hinder their transfer to Georgia. We want to show our upbringing, compassion, and, as an act of goodwill, transfer the remains to their relatives. We hope that they, in response, will indicate the burial places of our relatives and allow them to be exhumed and transferred to their families," said Kudzieva.
She has also noted that before handing over the bodies to the Georgian side, the leadership of the Committee and the Commissioner for Human Rights, Inal Tasoev, spoke to the families of the missing and asked about their attitude to the issue. "They all said they were not going to fight the dead. They had a small hope that loomed: maybe the Georgian authorities, in turn, would say about the whereabouts of their relatives, " said Kudzieva.
Lydia Kudziyeva's spouse Pavel Kabulov disappeared in 1991. And since then she has united the families of the missing, all those whom the common misfortune has rallied.
"I understand well the feelings of relatives and friends of the missing. 28 years ago, my husband disappeared, and there is still no information about him. Every day I wait, I hope to get at least some news about him. I appeal to everyone who may know at least something about his whereabouts, with a request to inform us. We are not at war with anyone, we are supporters of peace. And we want to live, raise children and grandchildren under a peaceful sky, " she concluded.
On Tuesday, South Ossetia, through the International Committee of the Red Cross, handed over to Georgia the remains of seven citizens of Georgian nationality, killed during the Georgian aggression in August 2008.