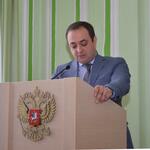 Ambassador Extraordinary and Plenipotentiary of the Republic of South Ossetia to the Russian Federation Znaur Gassiev on behalf of President Anatoly Bibilov delivered a welcoming speech at the international conference "Crimea in Modern Geopolitics - 5th Anniversary of the Crimean Spring," the press service of the South Ossetia Embassy in Russia reports.
The conference, which took place in the Ministry of Foreign Affairs of Russia, was attended by deputies of the State Duma and members of the Council of Federation of the Federal Assembly of the Russian Federation, representatives of the State Council and Council of Ministers of the Republic of Crimea, and heads of diplomatic missions.
On behalf of the President of South Ossetia, Anatoly Bibilov, Znaur Gassiev congratulated the participants of the conference on a significant event - the fifth anniversary of the reunification of the Crimea and Sevastopol with Russia.
"The events of five years ago not only led to an incredible rise in patriotism, but also showed the whole world the greatness of Russia and the strength of the Russian spirit, and despite the difficulties and opposition of a number of Western countries, the world public opinion is increasingly inclined to the correctness and validity of the choice of the Crimean people. Russia does not give up its own, - South Ossetia was convinced of this for more than 20 years with the beginning of the struggle for its freedom, and in August 2008 Russia demonstrated that aggressive nationalism should not have a place in the modern world," said the head of the South Ossetian mission .
Gassiev has noted that South Ossetia is fully determined to maintain ties with Crimea in every way, which, of course, have a positive dynamic of development, as evidenced by regular multi-level contacts and obligations arising from bilateral legal documents.
Permanent Representative of the Republic of Crimea under the President of the Russian Federation Georgy Muradov, on behalf of the Head of Crimea Sergey Aksenov, presented Znaur Gassiev with an invitation for President Anatoly Bibilov to the anniversary V Yalta International Economic Forum, which will be held in Crimea on April 17-20.