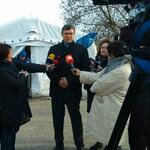 Five drones at the same time crossed the border of South Ossetia from Georgia and flew to the city of Kvaisa, the head of the South Ossetian delegation Yegor Kochiev told reporters after the official part of the meeting under the Incident Prevention and Response Mechanisms (IPRM).
"One of the drones was hanging over the city of Kvaisa for twenty minutes, and then flew off towards the Georgian settlement Iri. This fact surprised the participants of the meeting of the Georgian delegation. Approximately unmanned aerial vehicles were in South Ossetia for about an hour," said Yegor Kochiev.
Practically at every meeting, the South Ossetian side constantly raises issues of violation of the airspace of South Ossetia. And the fact that this time, Georgian drones made a voyage to the city of Kvaisa, surprised the media representatives of Georgia, and they abruptly changed the topic of questions and turned the conversation towards the violators of the state border.
According to Yegor Kochiev, the statistics on the trespassers is always at odds with the Georgian party.
"This time, according to the information of South Ossetia, 8 people were detained for violating the state border," Kochiev said.
He has noted that the meeting also discussed humanitarian issues related to grass fires, the irrigation system, raised problems that concern people living directly on both sides of the state border.