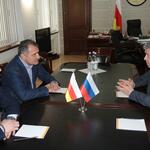 President of South Ossetia Anatoly Bibilov met with the Vice-President of the Skolkovo Foundation, Alexander Chernov, the press service of the head of state reports.
Anatoly Bibilov expressed hope for the elaboration of issues related to various projects and the participation of South Ossetia in them.
"I hope you will have the opportunity to assess the potential of South Ossetia and to some extent work through the issues related to various projects of Skolkovo." For my part, I can assure you of all-round support," said the President.
Alexander Chernov thanked Bibilov for the meeting and invited him to the International Conference in Skolkovo. He has noted that as part of his visit to South Ossetia, a meeting is scheduled with Rector of the South Ossetia State University Vadim Tedeev, during which will be worked out the question of attending the Startup Village conference by students of the SouthOssetia State University.
"We want to invite students of your university to an event to be held on May 29 at Skolkovo. We have something to see, there is something to brag about. There are technologies that can be applied in the national economy, housing and utilities and in the energy-saving sphere. All these technologies can be very effectively applied in a small republic, because here you can immediately see the result," said Alexander Chernov.
Vice-President of the Skolkovo Foundation stressed that it would be useful for students to see and evaluate new developments in the technological field, to see what a startup movement is and how amazing projects are being designed and implemented out of the blue.
"Startup Village in Skolkovo will bring together about 25 thousand inventors, innovators, investors, businessmen. Intensive work is expected: meetings, conferences, exhibition projects, purchases, sales, contests. It will be very interesting, " he said.
The President, in turn, has noted that the participation of South Ossetian students in such a serious platform at Skolkovo is very important and expressed gratitude to Alexander Chernov for the invitation.