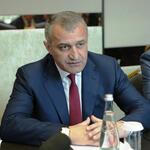 The Embassy of South Ossetia will be opened in Syria without fail, the issue is under negotiation, President Anatoly Bibilov told RIA Novosti.
The delegations of South Ossetia and Syria are take part in the fifth economic Forum, which opened in Yalta on Thursday. The delegation of South Ossetia is headed by President Anatoly Bibilov, Syria – by Minister of Economy and Foreign Trade Samer Al-Khalil.
"The embassy will be definitely opened. We are in the negotiation procedure. We will meet with representatives of Syria here, of course, we will discuss all these issues," said Bibilov at the Yalta International Economic Forum.
According to him, South Ossetia is interested in establishing economic ties with Syria.
The Yalta International Economic Forum is an annual business event in the economic sphere held in Crimea. In 2019, the forum is being held from April 18 to April 20. Organizers expect more than 3 thousand participants from about 100 countries. MIA "Russia Today" is the general information partner of the Forum.