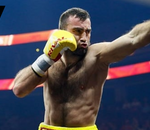 Former world boxing champion in the first heavyweight (up to 90.71 kg) Murat Gassiev debuts in heavyweight in June. This was announced on Thursday by the head of the promotion company Matchroom Boxing USA Eddie Hearn on Twitter.
Murat Gassiev signed a promotional contract with "Matchroom Boxing USA ", "Ural Boxing Promotion ", "Warriors Boxing "and s moving into heavyweight.
The rival of the 25-year-old Russian boxer has not yet been voiced.
"I am pleased to announce the signing of the [former] world champion Murat Gassiev's first heavyweight. He is going to become a heavyweight in June," the report said.
The fightings by Gassiev in the United States will broadcast streaming service DAZN.
"I am very pleased to announce the start of cooperation between my promoters, Ural Boxing Promotion and Warriors Boxing with Matchroom Boxing USA and DAZN," said Gassiev. "I am sure that this cooperation will be very fruitful. I want to make all my fans around the world happy with this news. I will try to fully realize my potential in the heavyweight division," said Murat to the fans.
Eddie Hearn has already managed to greet Murat Gassiev on the introduction to DAZN.
"I am glad to welcome Murat to the team," said promoter Eddie Hearn. "I think Murat is an exciting addition to the heavyweight division, and he chose the most fantastic time for this. We prepared for him a lot of fights, and I can't wait to see him as a heavyweight champion. "
Recently, the Ukrainian boxer Aleksander Usik, to whom Gassiev conceded in the last duel, having lost titles of the world champion in the first heavy weight on versions of the World Boxing Association (WBA) and the International Boxing Federation (IBF). announced his moving to heavyweight.
In total on the account of the athlete are 26 victories (19 by a knockout) and one defeat.