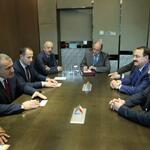 President of South Ossetia, Anatoly Bibilov, at the V Yalta International Economic Forum, discussed with the delegation of the Syrian Arab Republic plans to implement the agreements between the two countries, the presidential press service reports.
The meeting was attended by Minister of Economy Samer Al-Khalil and the SAR Ambassador to the Russian Federation Riyad Haddad. The South Ossetian party was represented by, Deputy Prime Minister - Economic Development Minister Gennady Bekoev and Foreign Minister Dmitry Medoev.
President of South Ossetia congratulated the Syrian delegation on the 73rd anniversary of independence, celebrated in the SAR the day before, and expressed confidence that the current war against terrorists would also be won.
"As for our relations, they are developing dynamically. Today the opening of the Trade House is on the agenda. Several times the representatives of South Ossetia traveled to Syria, communicated with colleagues. The composition of our part of the Intergovernmental Commission is practically formed. I hope that the joint commission will work soon and will deal directly with the implementation of the agreements concluded with President Bashar Assad, "said Anatoly Bibilov.
Samer Al-Khalil has noted that a number of important agreements have been signed between Syria and South Ossetia, some of which have been ratified by the parliaments of the two countries, and today it is necessary to take practical steps to implement them.
"We need to use all possible ties between our countries. Both visiting South Ossetia by our parliamentarians and relations between state organizations and private companies should create a kind of bridges for the development of cooperation," said the Syrian Minister of Economy.
He also offered Anatoly Bibilov to send representatives of South Ossetia to Damascus to participate in the International Fair.
Syrian Ambassador to the Russian Federation Riyad Haddad also said that the date of the visit to South Ossetia by the delegation of the SAR National Assembly would be soon determined.