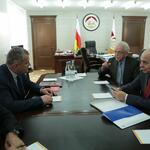 President of South Ossetia Anatoly Bibilov met with Colonel-General Nikolai Koshman, President of the Association of Russian Builders, the presidential press service has reported.
The meeting was also attended by the former First Secretary of the South Ossetian Regional Committee of the CPSU, Felix Sanakoev, and the State Advisor to the President of the RSO, Konstantin Pukhaev.
According to the press service, the purpose of Nikolai Koshman's visit to South Ossetia is to discuss a number of proposals and questions on the construction of building and composite materials plants in the Republic. He told the head of state about the specifics of the work of large Russian plants specializing in the production of construction materials for new high-environmental technologies.
"Today we plan to build on the territory of the Russian Federation about 43 plants for the production of aerated concrete, fiber cement slab, foam glass. Such projects can be implemented in South Ossetia," said Nikolay Koshman.In turn, Anatoly Bibilov noted the prospects for the implementation of such projects both in terms of efficiency and high ecology and proposed to study the issue together with the Ministry of economic development of the Republic of South Ossetia.
"South Ossetia has great opportunities. We have good projects; we have an interest in them. But we need to get down to concrete things based on the identified priorities, and this requires studying them by the Ministry of Economic Development of South Ossetia," the President emphasized.