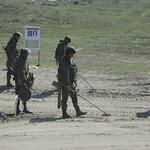 In order to ensure the safety of the persons involved and military equipment during reconnaissance measures, all suspicious and explosive objects found will be destroyed on the ground by the method of detonation with an overhead charge.
The subdivisions of the engineering troops of the Russian military base of the Southern Military District, stationed in the Republic of South Ossetia, have begun a continuous clearing of firing grounds, army shooting ranges and training complexes from explosive objects, the press service of the Southern Military District reports.
The works involved more than 100 military personnel and 20 units of military and special equipment, as well as specially trained mine detection dogs. The total area of ​​the training and material base, which is subject to comprehensive engineering reconnaissance, is about 3 thousand hectares.
In carrying out the task of continuous cleaning of combat training grounds, military engineers use modern means — seekers of non-contact explosive devices (Korshun-3M INVU), and protective suits "Dublon".
In total, in the winter period of training at the firing grounds and military shooting ranges of the military base of the Southern Military District in South Ossetia, about 270 thousand ammunition was spent during combat training, including 6 thousand hand grenades and 70 thousand artillery shells.